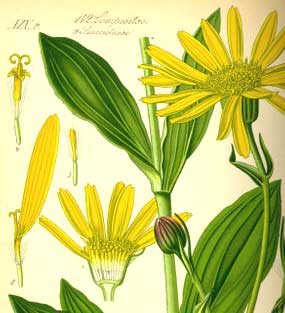 Arnica is an essential herb. Applied topically as a cream, ointment, liniment, salve, or tincture, arnica soothes muscle aches, reduce inflammation, and heal wounds.
Arnica promotes skin regeneration and stimulates blood circulation which helps white blood cells remove fluid from an injury; it reduces swollen or puffy skin and dark circles.
Headaches from sitting in traffic, or other people's
mal educata,
bad manners, can be relieved, and as with all Super Salve products, the fragrance is part of the equation.
Arnica Muscle Easing Salve
rubbed on the temples and back of neck can ease the discomfort, if not the reality of the situation. For deeper penetration, Super Salve also makes an
Arnica Linament
.
Arnica is useful to treat hair loss, so try rinsing your hair with arnica tea as it will stimulate hair growth.
Now you can move onto what really matters, such as creating an outdoor room on your porch using enormous ferns in hanging baskets for privacy and winter greenery.
Then enjoy some Mariage Freres tea, using an art deco samovar, out of Stone Bridge blue and white china tea cups, from various years, with Carmargue napkins, and enjoy slices of apricot, walnut, and sour cream tea cake, meant to be eaten with your fingers, wear a ring made of an almond shaped amethyst, and and let the melodic tinkling of your charm bracelet blend with Henry Purcell's
The King's Supper
, a baroque favorite that works well for tea.